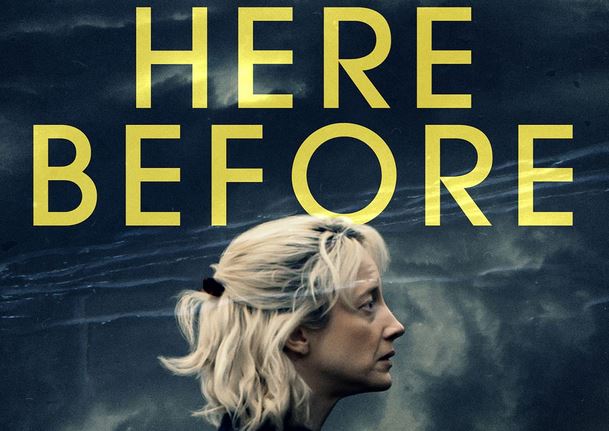 Here Before – Review
Written and Directed by Stacey Gregg and starring Andrea Riseborough (Shadow Dancer, Birdman), Jonjo O'Neill (The Fall), Eileen O'Higgins (Brooklyn), Martin McCann (Wildfire) and Niamh Dornan, Here Before is set in Northern Ireland and centres around a woman called Laura and her family. When a new family moves in next door their young daughter Megan reminds Laura of the daughter she lost and she soon develops an obsession with her. Megan recalls some of Laura's daughters memories which makes Laura believe that there's something supernatural going on. She's determined to get to the bottom it, which leads to tensions between the two families and fractures relationships within her own family.
I've seen a lot of phycological thrillers, some good, some bad and some in between, but I must say I was pleasantly surprised at Here Before. From the opening scene I was hooked into the story and there wasn't one moment I lost concentration. There is a rainy backdrop to much of the film and a cold feeling to the adjoining houses which are perched unsteadily on top of a hill. This created an uncomfortable and an uneasy atmosphere.
Andrea Riseborough shines in the lead role as Laura with a pitch perfect Northern Irish accent. Riseborough often plays characters with an inner turmoil and here she does it so well. With Laura you can really see and feel the pain and grief she's going through. Much praise also has to be given to Niamh Dornan who plays the little girl Megan. She has a lot of acting to do especially with her reactions and subtle facial expressions. She creates a real spookiness to the character of Megan and has a lovely chemistry with Laura.
I have to give credit to the superb sound design and music which is so important in these types of films. It jarred from the start adding further to the sense of foreboding. There was one particular scene which stood out for me and captured the atmosphere so well. It contained a montage where everything was a bit distorted and sped up and slowed down with quick cuts in between and accompanied by a quirky song. It gave an insight into Laura's confusion and deteriorating mental state which increased the sense of tension and chaos.
Northern Ireland Screen are co-producers of the film and I've seen some top quality films and shorts from them and when I see their name attached I know I'm in for a treat. Here Before is no exception. The film premiered at the SXSW Film Festival last year and went on to be screened at a number of different festivals including the Galway Film Fleadh where it picked up the Best International Film Award. I highly recommend Here Before. It's tense, it's uneasy and hugely atmospheric with some great acting. And most importantly it will have you on the edge of your seat wondering what's going to happen next which is what you want from a really good phycological thriller.
Out in cinemas across Ireland and the UK on the 18th February 2022 and 11th in the US.
Written and Directed by Stacey Gregg
Cast: Andrea Riseborough, Jonjo O'Neill, Eileen O'Higgins, Martin McCann, and Niamh Dornan
Running Time: 1hr and 23 min
Rated: R
Budget:$3,000,000 est.
Review by Claire Millane, a Dublin based actor, writer, and one of the presenters of No Budget.
 Here Before Trailer:
Tags In