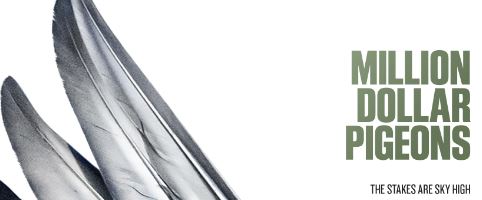 Million Dollar Pigeon Review
Million Dollar Pigeon is an incredibly charming documentary directed by Gavin Fitzgerald who should be extremely proud of his team as this gem has all the elements of a great feature documentary with comedy, action and the most interesting subjects who talk and coo. It's perfectly produced by Venom Films who partnered with Dogwoof Films, Screen Ireland, RTÉ, BAI, ZDF, ARTE, and NHK.
The film starts off in suburban Dublin following a pigeon Fancier called John who not only invites us into his world, he becomes the key of information for us, sharing insights on how this particular hobby (or business for some) expands to countries you'd be interested in visiting but not for the reasons you think. Countries like Belgium, South Africa and Thailand are increasingly popular for pigeon fanciers who like the birds flock there to witness their babies race amongst others internationally. Yes, that's right, if you've never heard of this before, fanciers race their pigeons against others for fun if you're a part of a club and for money if you're not. One of the main reasons why is because pigeons have this unique design within their pea-size brains that no matter where in the world they are, they know exactly where their home is and how to fly back to it.
While I was enjoying watching the film, I couldn't help but question why. Why do they keep pigeons like pets? Why do they spend all their time and money investing everything when there's a possibility of losing it all? Well, at the end of the day the documentary gives us two answers, the first is; purpose, some say it's their calling and the other answer will always be why not.
Interestingly enough, this sport is captured extremely well, the interviews are a warm welcome into the homes of the fanciers globally who take care of their pigeons like family and we get to know their stories of how they got into the race, some recently due to how much profit there is and others from a young age.
The film focuses on the depths and details of the biggest world renowned pigeon races as it grows and populates the radars of ordinary people because, let's face it, fanciers are definitely extraordinary to begin with which is why our main man John is so likeable.
I would definitely recommend taking flight to your nearest cinema to watch this remarkable documentary that will change the way you see people and birds and what happens when they both come together.
One thing's for sure; you'll never see pigeons the same again.
Director: Gavin Fitzgerald
Run Time: 1hr and 38min
Released: November, 25th, 2022 (UK & Ireland)
Review by Ren Canga a Dublin based Cinematographer
Watch The Trailer Here