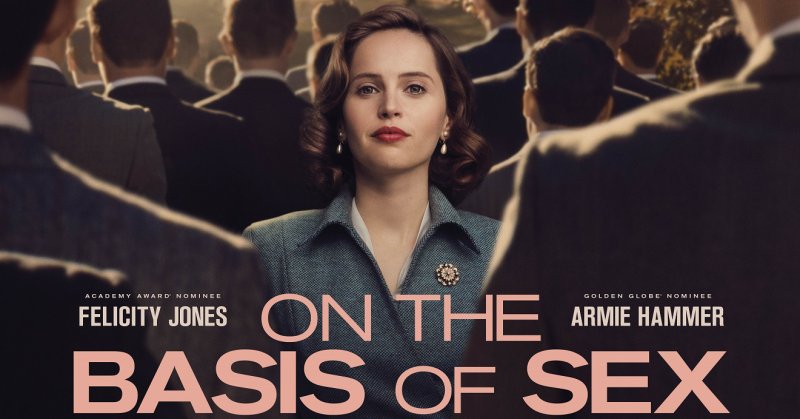 On The Basis of Sex Review – From Ruth Bader Ginsburg To RBG
On the Basis of Sex tells the amazing story of Ruth Bader Ginsburg (Felicity Jones) as she overcomes the gender inequality of her day to bring a groundbreaking case before the U.S. Court of Appeals in the 1970s. That case began a process of overturning many gender discrimination laws in the US since.
The movie opens with a series of shots of suited men's feet as they head into Harvard Law School while the Harvard fight song: "Ten Thousand Men of Harvard" plays. Mixed into uniform slacks we see a woman's legs and shoes as she works her way through the crowd into the school, where it is made very clear she is in the minority. However, Ginsburg is not discouraged by this as she looks around the room, instead, she excels in her classwork becoming top of the class. At the same time as this, she is raising a daughter and caring for her husband Martin Ginsburg (Armie Hammer).
Written by Daniel Stiepleman, the nephew of Ruth Bader Ginsburg, and directed by Mimi Leder, "On the Basis of Sex" does an excellent job of balancing Ruth's story of attending law school, teaching, and becoming a lawyer with her relationship to her husband and children. The relationship between Martin and Ruth stands out in this film with the way they support and encourage each other over the years, giving us more to care about in this film than a courtroom drama.
Leder seems to enjoy the dramatic pauses in her filmmaking, however I felt they were a little overdone – especially in the courtroom scenes where we see Ginsburg transition from an unsure novice to the great litigator she became later in life. It's like, okay we get it, dramatic moment but do these moments need to happen so often?  Not in my opinion. But as that is all I have to say when it comes to the negatives of this film, it should be clear I would recommend this movie to anyone. The performances are top notch, the writing is fantastic, and at the hands of Mimi Leder, this is a film everyone should watch to see the impact that one person can have on the world.
Director: Mimi Leder
Written by:  Daniel Stiepleman
Starring:  Felicity Jones and Armie Hammer
Rated: PG-13
Running Time: 1 hour and 30 minutes
Production Budget:  $20,000,000 est.
Released: US January 2019, UK February 2019
Review by Milo Denison, the host of the podcast The 80s and 90s Uncensored.
Tags In