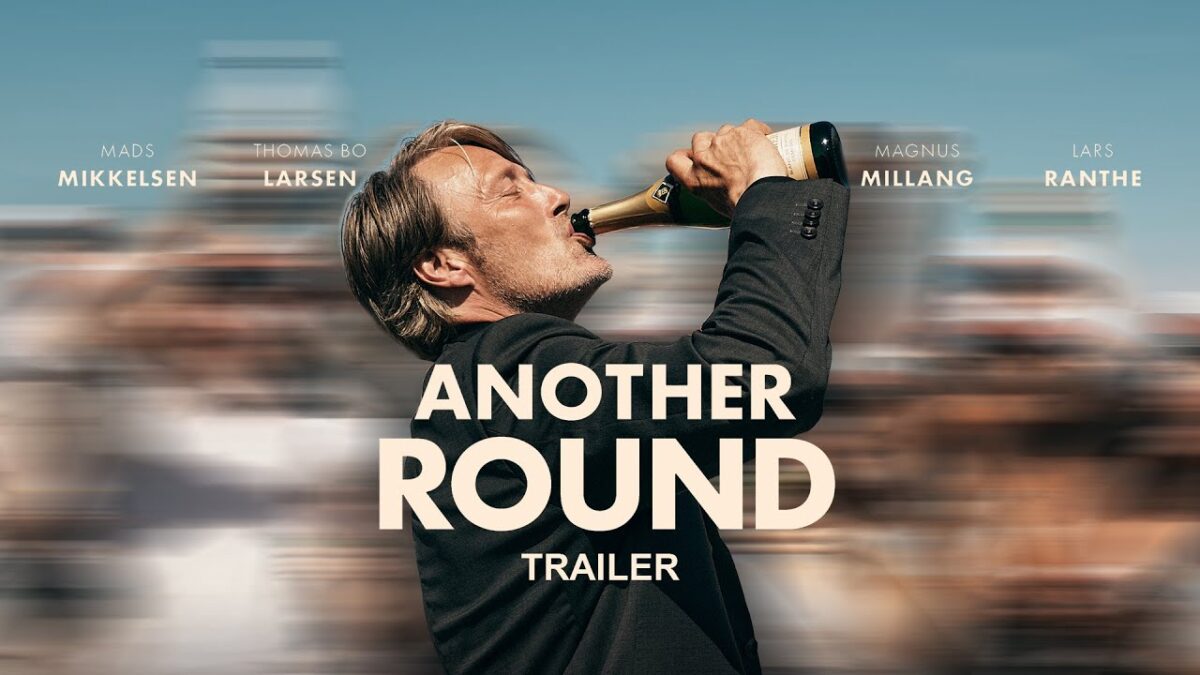 Another Round – Film Review
A unique take on the effects of alcohol which will make you laugh and cry in equal measure.
Another Round (Druk in Danish) is a Danish film directed by Thomas Vinterberg (director of The Hunt) and stars Mads Mikkelsen, Thomas Bo Larsen, Magnus Millang and Lars Ranthe in the central roles. It won the best international film at this year's Oscars. It was originally meant to premiere at the Cannes Film Festival in 2020 but due to covid it instead premiered at the Toronto International Film Festival.
Four lifelong friends and colleagues Martin, Tommy, Peter and Nikolaj are working as teachers in a school in Copenhagen but are struggling with their boring everyday lives and keeping their students motivated. At Nicolaj's 40th birthday party a theory is discussed that having a blood alcohol level of 0.05 makes you more relaxed and productive. The four friends decide to test out the theory. Their lives suddenly begin to improve, their energy increases, and their students begin to love their new enthusiastic way of teaching. They then decide to experiment further and increase the limit of their drinking to see how much it affects them.
Another Round is a very unique take on alcohol consumption. The film highlights the positive effects of alcohol on mood and social situations while simultaneously showing the destructive effect of it on families, relationships and physical and mental health. I found some parts hilarious, particularly when the four friends at their highest level of drinking go out on the town, and then in other parts it's gut wrenchingly sad. Even during the funniest moments there's always a sense that the four friends are playing with fire and at any moment situations can spiral. I found the performances from both the central and supporting cast very strong and emotive and the film is directed with thought and care.
There's an unfortunate tragic real-life backstory to this film which I only became aware of after I had seen it. The director Thomas Vinterberg's 19-year-old daughter was tragically killed in a car crash four days into the shoot. Thomas had sent his daughter the script shortly before she was killed as he wanted her to play Mads Mikkelsen's teenage daughter in the film and shoot it in her old high school with her real-life friends. He subsequently changed the character to two sons in the film. The production was put on hold for a while and was then shot in segments as Thomas tried to come to terms with his grief. With the support of the actors and crew, he completed it and dedicated it to his daughter. Knowing this makes it even more poignant that the film won an Oscar.
An English language remake of the film starring Leonardo DiCaprio is in the pipeline, but please Hollywood leave these films alone and appreciate them in their original format. The amazing film Force Majeure was destroyed in the Will Ferrell remake Downhill so I hope this doesn't happen with Another Round.
If you're a drinker Another Round will leave you thinking about your own consumption of alcohol and if you're not, it'll make you more aware of the dangers of it.
Director: Thomas Vinterberg
Written by: Thomas Vinterberg, Tobias Lindholm
Starring: Mads Mikkelsen, Thomas Bo Larsen, Magnus Millang and Lars Ranthe
Rated: TV-MA/15A
Running Time: 1 hour and 57 minutes
Released: US 18th of December, 2020 | UK and Ireland 2nd of July 2021
Review by Claire Millane, a Dublin based actor writer and one of the presenters of No-Budget.
Tags In