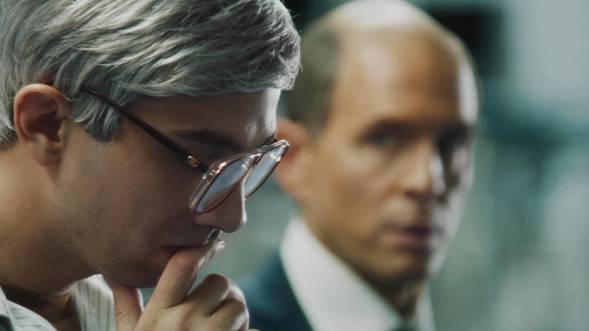 BlackBerry Movie Review
"Blackberry" is a biographical comedy-drama written and directed by Matt Johnson, adapted from the Sean Silcoff book "Losing The Signal". 
It tells the story of the "Extraordinary Rise and Spectacular Fall of the BlackBerry", which I'm told dominated the mobile phone market before the arrival of the iPhone. Having lived through that period I can say I was completely unaware of BlackBerry's popularity, but I digress. 
The film adopts a semi mock-documentary style camera work, similar to that of The Office but without the fourth wall breaking wise cracks. This gives a grounded quality, as though what you are watching is indeed chronicling real life events. Replacing the silly antics of loveable Michael Scott is the seemingly raving lunatic behaviour of Jim Balsillie, played wonderfully by "Always Sunny in Philadelphia's" Glenn Howerton, who is tasked with getting a small group of video game playing computer geeks into shape to take on the business world. 
Also cast is Jay Baruchel, frequently seen in Judd Apatow projects, as tech genius Mike Lazaridis, whose technological wizardry (such as fixing literally any computer product with a screwdriver) is matched only by his complete lack of competitive business acumen, where Balsillie thrives. 
While both men provide commendable performances, there is the unusual feature of their hair, which can be distracting from time to time. A bald Glenn Howerton and gray Jay Baruchel never quite looks natural for me, and is a peculiar choice given that neither actor look even remotely like their real life counterparts. Which begs the question, was the hair really that important to the character? But that's only a minor gripe. 
The rest of the cast includes familiar faces I haven't seen in quite some time, such as Michael Ironside (Scanners) and Saul Rubinek (Frasier). Then there's someone I keep seeing everywhere at the moment, Cary Elwes (Stranger Things). Also featured is writer/director Matt Johnson, taking the role as Lazaridis's incredibly annoying best friend and second-in command, Doug Fregin. Fregin presence provides for either a relationship fractured by greed, or a hanger-on eventually shaken for the greater good, depending on which way you look at it. 
Story-wise, it's a standard fare. A meteoric rise, where a mismatched pair put aside their differences and take on all comers, successfully navigating each obstacle that comes there way, all set to a delightful, upbeat soundtrack.
It's highly enjoyable rise is matched by its heartbreaking, inevitable fall, as priorities change, relationships grow apart, and strict standards and beliefs are abandoned in a bid to stay on top. 
While the tale is highly entertaining, and the performances solid, the movie never really crosses that line where I would call it a true comedy. Humorous? Yes. Darkly comedic? Absolutely. However, I don't recall a single actual laugh out-loud moment. The humour is certainly not cringe, or bad. It's just not at the forefront as one might expect from a comedy starring this leading pair. That's not to detract from the movie in any way, but it is a point to note. 
The ending does seem a little abrupt, as though there was more to the story, but I can assume that was an artistic choice. Hollywood has geared us to expect a triumphant comeback, lead by our heroes, together stronger than ever, but as we know from reality, this is not on the cards for the BlackBerry product, making the ending quite fitting in retrospect. 
In conclusion, while I certainly wouldn't call this is a comedy, it is a terrific, often humorous, and always engaging movie. With a plethora of similar product based origin stories out there, this is assuredly up there with the best. 
4 stars out of 5
Directed by: Matt Johnson
Written by: Matt Johnson and Mathew Miller
Starring: Jay Baruchel, Glenn Howerton, Matt Johnson
Run Time: 2hrs
Budget: $30,000,000 est.
Rated: R (US) | 18 (IE, UK)
Released: May 12th, 2023 (US) | Oct 6th, 2023 (IE, UK)
Review by Ross McCarthy, Dublin based screenwriter and stand-up comedian.
Dumb Money Trailer