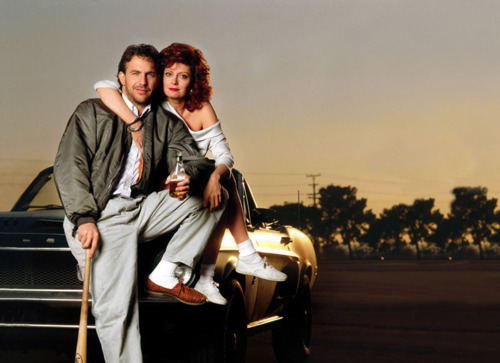 Bull Durham – Movies That Stand the Test of Time
It's been 30 years since "Bull Durham" hit theatres and when it comes to standing the test of time, this is one of those movies.  Written and directed by Ron Shelton, Bull Durham takes from the writer's previous experience as a minor league ballplayer in this romantic comedy. Crash Davis (Kevin Costner) is an aging minor league baseball player brought to Durham, North Carolina to mentor a young pitcher Ebby Calvin 'Nuke' LaLoosh (Tim Robbins) who has an amazing fastball, yet lacks control.  Crash and Nuke fall for Annie Savoy (Susan Sarandon) a fan of the team who gives Nuke some mentoring of her own.
Personally, I've never been a huge Kevin Costner fan but if there is one thing he can do well it is baseball movies, and of the three he has done this one tops the list. His deadpan style of delivering lines works perfectly for a baseball player that has seen it all. He isn't the kind of guy who competes for a girl's affection because he doesn't need to. Then pair him with the younger Tim Robbins who plays Nuke with the naivety of youth. He is looking forward to the career he will have in the game. He is just out to enjoy life. Between them both is Annie, she loves the game and those who play it.
You don't have to be a fan of baseball to watch this movie as it has a little something for everyone. Yes, the baseball fan will enjoy it, but so will the girlfriend of the baseball fan who enjoys a nice romantic comedy. For the baseball fan, this film has numerous inside references to the game such as Annie's name which is a reference to baseball groupies or the plethora of superstitions and routines players have.  When sitting down to a movie nowadays we are barraged with extreme close-ups for drama, shaking camera for excitement, and scripts that try too hard. The reason "Bull Durham" stands the test of time is that it needs none of that. This is a film that can rely on the quality of the performances, the fantastic dialog, and a sport that hasn't changed over the years. This was Ron Shelton's directorial debut, and to be cliché, he hit it out of the park on this one.
Director:  Ron Shelton
Written by:  Ron Shelton
Starring:  Kevin Costner, Susan Sarandon, and Tim Robbins
Rated: R
Running Time:  1 hours and 48 minutes
Budget: $7,000,000 est.
Release Date: June 1988
Review by Milo Denison the author of "How to Manage Your Manager" available now.
Tags In