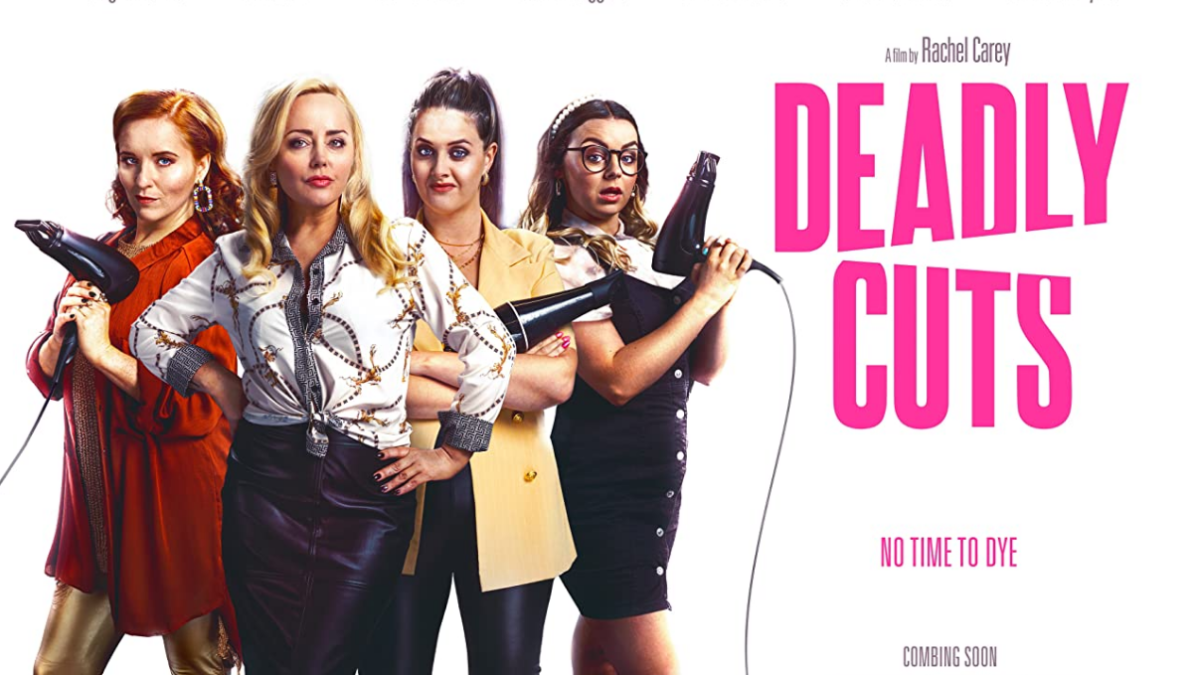 Deadly Cuts – Review
Written and directed by Rachel Carey and starring Angeline Ball (The Commitments), Erika Roe (Herself, Dublin Murders) Shauna Higgins (Dating Amber, Red Rock) and Lauren Larkin (Love/Hate) in the central roles.
Set in Piglinstown, a fictional working-class suburb of Dublin, Deadly Cuts centres on four hairdressers, Shauna, the feisty one, Gemma the more sensible one, Chantelle the ditzy one and its glamorous owner Michelle. The salon is being terrorised by Deano (Ian Llyod Anderson) and his gang of thugs who demand protection money and is then threatened with closure by a corrupt local politician.
Shauna dreams of joining her mother in her salon in Spain and encourages the gang to enter Ah-Hair, an elite hairdressing competition, run by hairdressing supremo D'Logan Doyle (Louis Lovett). They believe if they win, they'll be able to save the salon from closure and Shauna will win the admiration of her mother in Spain and will be able to join her there. Michelle is reluctant to enter after being sabotaged in the competition years before by a fellow hairdresser Pippa (Victoria Smurfit), a posh South Dublin snob. After a deadly attack on the salon by the local gang and with the threat of closure Michelle decides to put her fears aside and enter the competition with the girls and face her arch nemesis Pippa and her hairdressing sidekicks.
Irish comedies tend to overdo the crudeness which can make the audience feel very uncomfortable, but Deadly Cuts doesn't crossover into that territory making the writing stronger. There are some great laugh out loud jokes, and together with the quick editorial cuts, sound effects, and colourful costumes there's a humorous energy to the film which sweeps the audience along. In parts it reminded me of the Australian comedy Strictly Ballroom. Led by Angeline Ball, the actors are well cast and are each given their moment to shine as well as working well together as an ensemble. It was also great to see Pauline McGlynn of Father Ted fame make an appearance as one of the competition judges.
The world of Piglinstown and its community is well established. At times the thick Dublin accents can make it hard to understand and some dialogue gets a bit lost. However, it didn't detract from the film but added to the characters and sense of community. There's some great music in the film including some original raps and songs. Deadly Cuts has the potential to go the way of The Young Offenders and be transformed into a series because there's many more storylines and characters which could be explored and so much more mischief the gang could get up to.
There is a stigma held by Irish cinema goers that Irish films are unfunny or not good which is simply not the case. We may not be able to compete with the big American blockbusters, but we have the talent, wit and charm factor which makes our films unique. Hopefully this will be one of the films that will help break that stigma and I hope to see more Irish comedies like this being released in cinemas in the future.
Deadly Cuts is fun, light and will make you laugh, a film I'd highly recommend.
Out in Irish Cinemas Nationwide on October 8th
Running Time: 90 Minutes
Rated: TBC
Written and Directed by Rachel Carey
Cast: Angeline Ball, Erika Rowe, Shauna Higgins, Lauren Larkin, Victoria Smurfit, Ian Llyod Anderson, Pauline McGlynn, Louis Lovett
Review by Claire Millane, a Dublin based actor, writer, and one of the presenters of No Budget.