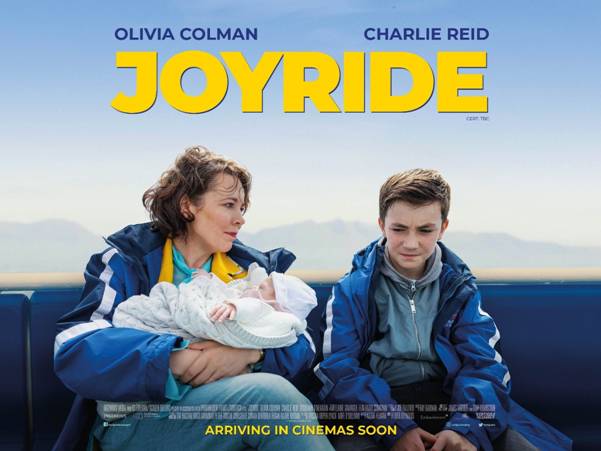 Joyride Film Review
Directed by Emer Reynolds (The Farthest), written by Ailbhe Keogan (Run and Jump) and starring the Oscar winning actress Olivia Colman and newcomer Charlie Reid, Joyride is a road movie that tells the story of a young boy called Mully (Charlie Reid) who runs away with charity money at a fundraiser for his recently deceased Mum. He is chased by his rogue father who wants the money back to settle his debts. Mully steals a taxi not realising a local solicitor, Joy (Olivia Colman), and her baby are in the backseat.
I must admit I'm not the biggest fan of road movies. I find they often have a predictable plot and similar characters, and Joyride is no exception. However, what I like about Joyride is the lovely chemistry between Joy and Mully. The further they get into their journey, the stronger their bond becomes.
I did find some scenes awkward to watch, especially the breastfeeding scene where Mully is showing Joy how to breastfeed. It is a little jarring that a young male teenager would know more about babies and breastfeeding than a 40 odd year-old woman, particularly when the actor playing Mully looks much younger than the teenager he's portraying. There's another awkward scene on a boat when they meet Tommy Tiernan and the three of them are singing the theme tune to Home and Away. However, there is a certain charm to the film with some lovely scenes, particularly when Joy plants a kiss on Mully's face and her red lipstick leaves a mark.



The film highlights the pressure and loneliness of motherhood, especially as a single parent with a new-born. You can feel the stress Joy is under and how overwhelmed and out of her depth she feels. There are suggestions that she's suffering from post-natal depression. It's a relief for Joy to confide in Mully and for Mully to find a mother figure in Joy.
Coleman has a slightly inconsistent Irish accent which does at times distract from the film. It might have been a better choice for her to use her natural English accent. I also found the very colourful costume choices extremely distracting. They aged Coleman and made her seem old fashioned and eccentric. Her bright and clashing costumes gave me an uneasy feeling. She was the only character wearing garish colours. Perhaps this was a deliberate choice to show how alienated and conflicted the character was.
There was a mystical element to the film with a pagan festival in the town and the appearance of a robin. A robin symbolises someone who has passed on, so I took this to mean Mully's deceased mother checking in with her son. The peripheral characters were a bit one dimensional, particularly the father figure. He's your stereotypical gambler, rough bonnet pounding angry person and you can see why Mully wants to run away from him. However, there was a deeper character in him that wasn't explored.
I found Joyride to be very uneven in parts and some of the choices, particularly the music and costumes, didn't fit with the characters and the narrative. Joyride is a film you would go to see if you're looking for something that's not too heavy, shows off some lovely Irish scenery and has an interesting dynamic between the two leads.
Directed by: Emer Reynolds
Written by:Ailbhe Keogan
Starring: Olivia Colman and Charlie Reid
Running time: 1hr 34min
Released: July 29th, 2022
Review by Claire Millane, a Dublin based actor and comedian, and co-hosts of The No Budget Filmcast.
The Joyride Trailer
Tags In