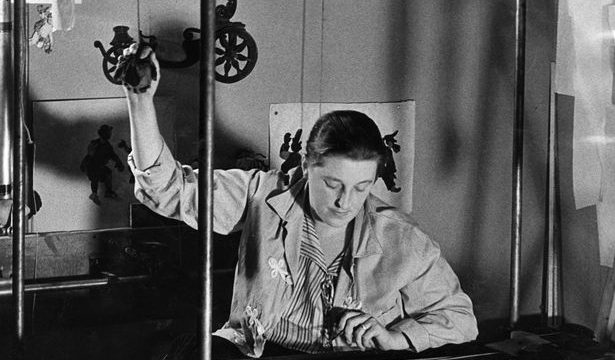 Lotte Reiniger – Creator of the First Feature Length Animated Film
Lotte Reiniger set the bar when it comes to animating stories into film. She was the first to make feature-length animated movies, something that wasn't done at the time. She made over 40 films, most of which haven't survived into the modern era. And, she did all this in the early 1900s using a technique called silhouette animation. No CGI here!
Charlotte "Lotte" Reiniger was born Charlotte Elizbeth Eleanor Reiniger in Berlin, Germany on June 2nd, 1899 to parents Carl Reiniger and Eleonore Lina Wilhelmine Rakette.
As a child, she showed an early interest in art. She would create silhouettes out of paper. Papercutting as an art was big at the time, and she showed a natural aptitude for it. She could cut silhouettes as soon as she could hold scissors. She also really enjoyed theatre as a child and would put on plays in her family's apartment. Silhouettes were an excellent solution for the small space of the family home.
She went to school for theatre and studied under Max Reinhard. She would even cut silhouettes while watching shows at the theatre. At 17 she began making title cards and then did rat puppets for Paul Wegener's version of "The Pied Piper of Hamelin." The success of this work got her admitted into the Institute for Cultural Research (Institut für Kulturforschung) where she started making short silhouette animations for the Institute, which became a hub of experimental animation. It was at the school she made her first film "The Ornament of a Loving Heart" (Das Ornament des verliebten Herzens).
Another member of the experimental art group at the institute was Carl Koch who she met in 1919 and would become her creative partner and husband. They were married on December 6th, 1921. Lotte would handle the artistic aspects of their films, such as the storyboards, the plots and characters, and doing the cutouts while Carl would handle the technical aspect such as the camera work. The two would spend their time traveling between Berlin and Paris in the 1920s.
In 1922 she animated the story of "Cinderella." The film starts with actual hands as silhouettes cutting the paper and then making it look like the paper was coming to life.
Lotte never really intended to make a feature-length film. It was when she met investment banker Louis Hagen; it was he who would encourage her to make an animated feature. Which turned out to be "The Adventures of Prince Achmed" (1926). This is the first know feature-length animated film. Often "Snow White" (1937) is credited as being the first animated film. The main reason is that the style of animation was different between the two with "Prince Achmed" being done through silhouette animation, and Snow White was made using cell animation.
"The Adventures of Prince Achmed" took three years to make from 1923 to 1926. Once complete Lotte had to arrange screenings herself as many theatres in Germany at the time didn't want to screen it. But after her screenings, the press was so positive that she was invited to screen in more theatres. It then went to Paris, where it ran for months, before going back to Germany and being shown.


She followed up "Prince Achmed" with "Dr. Dolittle" (1928) She also directed a live-action film "The Pursuit of Happiness" (1929). The film was made as a silent film, just as sound was being added to the film. Her method of dealing with that was to add the voices later, which turned out poorly. The film was considered a failure, and she went back to making short animated films.
In the 1930s Lotte and Carl left Germany after witnessing the rise of the Nazi party. Neither Lottie nor Carl were Jewish, but they had many Jewish friends and were not fans of the Hitler regime. This is how many of her films were lost and don't survive to this day since she left the negatives behind and they were later destroyed. Most of the versions we see today are made from prints of those films.
Lotte and Carl moved from many countries including France, Italy, and England during the 30s and 40s. They returned to Germany for visits including a 1943 visit to care for her mother but then moved to the UK in 1949 becoming British citizens. In London, they set up a production studio. They partnered with Louis Hagen Jr. the son of the man who funded her first film, "Prince Achmed." During this time, she was very productive in filmmaking producing dozens of films as well as performing with live shadow-puppet performances and wrote a book about Silhouettes. A very active era until the death of her husband in 1963. At which point she withdrew from public life and filmmaking for several years.
In 1969 she returned to Germany. And starting touring the US and other countries talking about her animation process.
In 1980 she made her last film called "The Four Seasons" (Die vier Jahreszeiten) and died a year later on June 19th, 1981. At the age of 82. A career that involved making around 60 films with over half of those films surviving to this day.
Her film "The Adventures of Prince Achmed" has been restored along with a new orchestral recording and it is now available on DVD and Blue-ray.
Lotte Reiniger – June 2nd, 1899 to June 19th, 1981