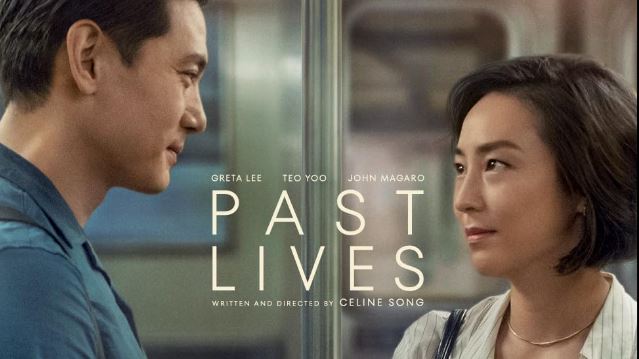 Past Lives – Film Review
Written and directed by Celine Song and starring Teo Yoo and Greta Lee in the lead roles, Past Lives is a romantic drama centring on two childhood friends who reconnect in later life.
As a child Nora develops a crush on her friend Hae Young. She tells her mother days before emigrating to Canada that he's the man she wants to marry. The film jumps ahead in time with Nora now an aspiring playwright in New York and Hae Young now a student in South Korea with an ambition to study mandarin in China. One night Nora goes through Facebook to see where the people she used to know ended up. Nora wonders about Hae and discovers that he's commented on a Facebook page of her filmmaker father. They decide to connect online via skype. Over weeks and months, they continuously skype each other and an online relationship develops. But when Nora realises they won't be able to meet up in person for a long time she breaks off the relationship. They both move on with their lives. The film jumps ahead again, and we see them in their 30's. Nora is now happily married to Arthur, an author she met on a writing retreat and Hae is now working and has a girlfriend. Nora explains to Arthur the Korean concept of in-yeon where if you meet someone, even briefly, it means you also met in a past life, and lovers are people who have met over and over again in their past lives.
Hae decides it's finally time to travel to New York to meet Nora in person. When they meet, they realise they still have a strong connection and a spark which has the potential to lead to a romantic relationship. Nora's husband Arthur comments "What a good story this is, childhood sweethearts who reconnect 20 years later and realise they were meant for each other." Both Hae and Nora are conflicted about the situation. Meeting Hae forces Nora to reflect on her own life and how it would have been very different if she had stayed in South Korea. It also makes her realise how removed she has become from her Korean routes. At the same time Hae feels a deep sense of 'what if'.
Past Lives reminds me very much of the work of Woody Allen with regards to the characters and the long debates they have. In lesser skilled hands these types of films can be laborious to watch but because Past Lives is so well written and the characters conflicted feelings so well defined, I found myself enthralled by these conversations. The beautiful cinematography and the landscape of New York adds a romantic nature to the film.
The film could easily have been a play because of the conversational nature of it. It is very dreamlike in parts and very raw and realistic in others. Past Lives challenges the formulaic plot of a typical romantic love story and makes it more complicated.
Since premiering in Sundance in January the film has been slowly gaining attention. It recently won the Sundance London audience award and will soon be screened to Irish audiences at this year's Galway Film Fleadh. I think it may be an award season contender and should do very well in the box office, especially with the growing appetite for Korean films. Past Lives wouldn't be a film for everyone but if you enjoy a good romantic drama with fully rounded characters and which has more complexity to the narrative than a regular rom com definitely go see.
Directed by: Celine Song
Written by: Celine Song
Starring: Teo Yoo and Greta Lee
Running Time: 1hr 45 minutes
Released: US June 23rd, 2023 | IE on September 8th 2023
Rated: PG-13
Review by Claire Millane, a Dublin based actor and comedian, and co-hosts of The No Budget Filmcast.
Past Lives Trailer
Tags In