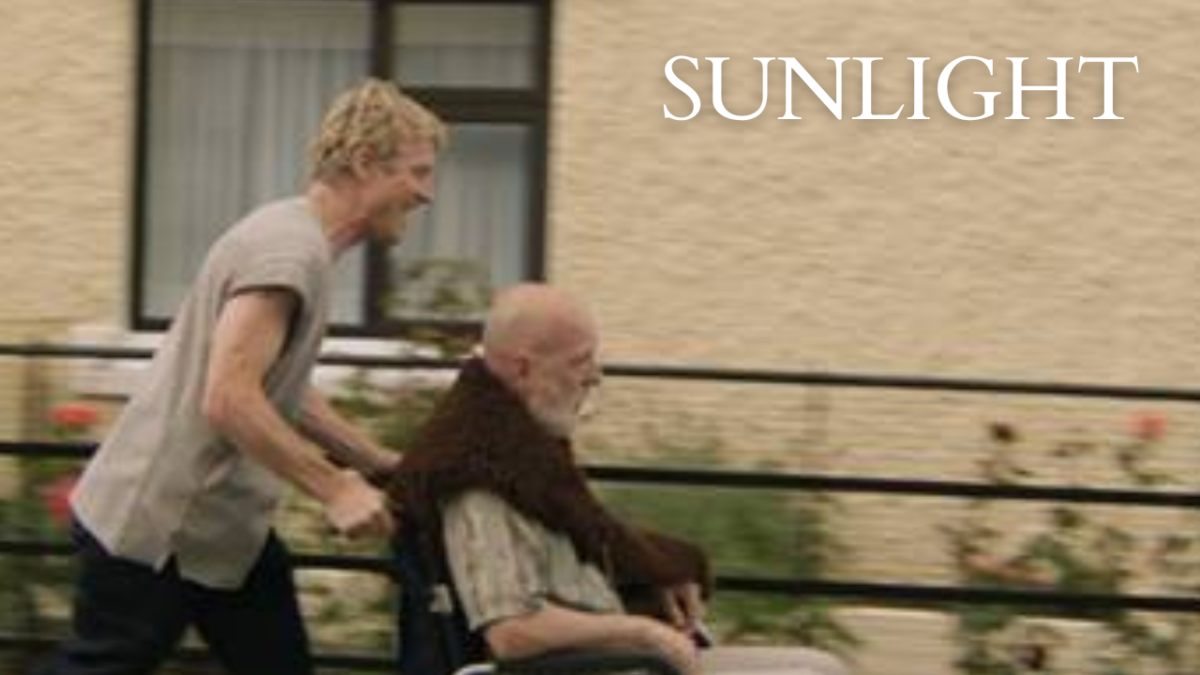 Sunlight Review
Directed by Claire Dix, written by Ailbhe Keogan (Joyride, Run & Jump) Sunlight is a comedy drama starring Barry Ward (Clean Sweep, Dating Amber), Liam Carney (Braveheart, The Commitments) and Maureen Beatty (Doctor Who, Outlander).
Iver (Liam Carney) has late-stage MS and wants to end his life with the help of Maria (Maureen Beatty), a doctor who assists people with terminal illnesses to die. Leon (Barry Ward) is a former heroin addict who Iver previously helped beat his addiction. Leon tries to convince Iver to stay alive by forcing him to go on one last day trip around Dublin. Together with Maria they visit Iver's old haunts, the pub he used to drink in, the stables where he used to hang out and the community he used to be part of.
Sunlight recently screened at the Dublin International Film Festival. I'd seen the trailer a few times and I thought the film looked like a nice story, similar to other films I'd seen before. When I sat down to watch the entire film, I was really impressed by it. I didn't expect to get so involved with the characters from the beginning. I laughed out loud, I cried and was deeply moved by it.  It's one of the best written and acted Irish films I've seen in the last few years.
The soundtrack that accompanies the film could be released as an album by itself, with the songs and beats matching up perfectly with the different scenes, adding to the humour and emotional impact.
The immense bond between Leon and Iver was very clear from the start. This is down not only to the great script but to the terrific casting of the two leads. Their chemistry sparks off the screen. There's one scene where Leon has set up a special concert for Iver using himself as one man band with his keyboards, pedals, and disco lights as well as a projector in the background. He composed a rap to show how much he loves and appreciates all Iver has done for him. I found Leon's attempt at rap absolutely hilarious. I really wanted to hear the rap in its entirety, so I was delighted it was performed in full during the closing credits. I stayed seated until the lights went up in the cinema to listen to it because it was not only funny but very endearing and a lovely tribute to Iver.
Maria, the doctor assisting Iver to die, was the more grounded, practical character. I felt she represented us as the audience and how we would feel if we were in Leons and Iver's shoes. When the day trip begins to get out of the control, she's the one to bring them back into reality.
The depiction of drugs and the impact they have on a community was very well portrayed, especially with the main drug dealer hanging around in the shadows like a grim reaper character ready to pounce on people's weaknesses. There's one scene in the stables with a young boy where he has his sleeve slightly rolled up and you could clearly see there were track marks on it. In another scene Leon meets one of his old friends who in a desperate way still on drugs. This was a reflection of where Leon could still be if he didn't get clean.
Just a warning that this film may be triggering for family members or people who are dealing with a terminal illness. However, it's well worth a watch. It's laugh out loud funny and very moving and will leave a deep impression with you afterwards.
Directed by: Claire Dix
Written by: Ailbhe Keogan
Starring: Barry Ward, Liam Carney, Maureen Beatty
Running Time: 91 minutes
Rated: 15A
Released: June 16th, 2023 Ireland & UK
Review by Claire Millane, a Dublin based actor and comedian, and co-hosts of The No Budget Filmcast.
Sunlight Trailer