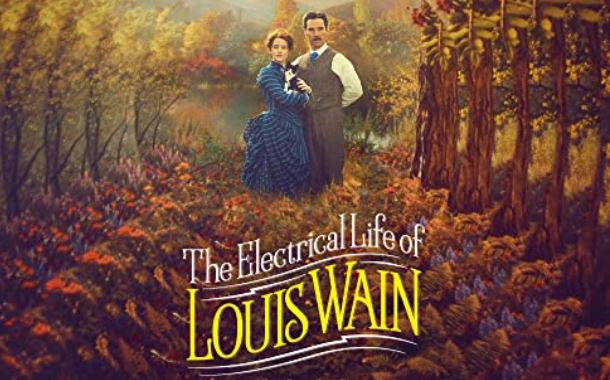 The Electric Life of Louis Wain – Review
I find it odd going into a film not knowing anything about it. I always have a sense of anxiety or unease thinking: "Am I just going to sit here and be bored or is my mind going to explode with the level of artistry I'm about to experience?" I'm not familiar with the work of Will Sharpe (apart from the odd TV spot for his show Defending the Guilty in 2018) nor was I familiar with the work of this film's protagonist, the artist Louis Wain. Going in blind I prepared myself for anything and when I found a charming yet distinctly dark film about how art can be a vessel for our love and memories but also a prison, I was pleasantly surprised.
The Electric Life of Louis Wain deals with the unique existence of the English artist best known for his paintings of cats, who helped popularize the fluffy four leggers as cuddly pets and not snarling, vicious fur monsters. This aspect alone would be only a small fraction of this story with Louis (Benedict Cumberbatch) starting off as a lowly pictorial artist for The Illustrated London News, then falling in love, facing tragedy, garnering fame, and dealing with the decline of said fame all while providing for his mother and sisters whilst facing a deteriorating mental state in a 50+ year period where the industrial world changed drastically.
One of the big pitfalls of this film is just the sheer amount of this man's life they squeeze into its one-hour and fifty-one-minute runtime. The first half an hour of which is where I feel this overload of information is most prevalent. We get hit with this detailed world, a mass of characters, and a love story so quickly one after another that it can be a struggle to connect to the actual story of the film. Now all this work isn't vain but it's worth noting that a couple of pieces could have easily been left out and that pace the film eventually sets into could have been there from the outset. Once that runtime starts to stretch out though we get a really good feel for those characters and the objective of the story.
Cumberbatch starts off as an awkward mix of his performance of Sherlock and Sheldon Cooper then as the more dramatic elements of the film are fleshed out so does his performance. Claire Foy is astounding and the supporting cast (Toby Jones, Riseborough, Adeel Ahktar plus many more of the UK's best) all work well on both the comedic and dramatic alike. The quality of the production from the cinematography to the production design and costumes is of a high standard for a dramatic comedy of this scale. That alone should account for the price of admission but the caliber of performances involved provides an extra bonus. Will Sharpe wasn't on my radar before this, but he will now.
Directed by Will Sharpe
Written by Will Sharpe and Simon Stephenson
Starring Benedict Cumberbatch and Claire Foy
Rating: US PG-13 | UK 12A
Runtime: 1hr and 51 min
Release Date: US Oct. 23rd, 2021 | UK & Ireland Jan. 1st, 2022
Review by Marcus Rochford.
Watch the Trailer
Tags In