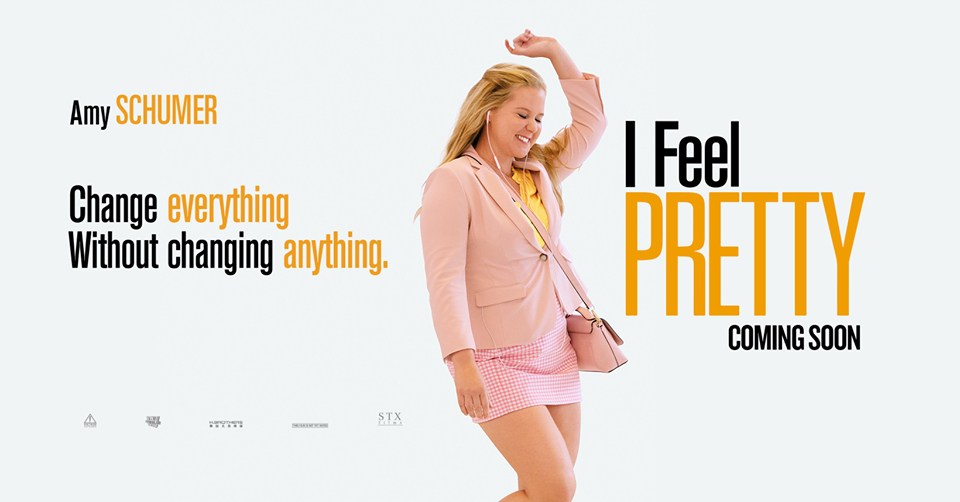 I Feel Pretty Movie Review
Funny, heartfelt comedy that every woman can relate to.
I Feel Pretty is the directorial debut of Abby Cohn and Marc Silverstein. They're more commonly known as the screenwriters of He's Just Not That Into You, Valentine's Day and How to be Single.
Hidden in a downtown basement office, far away from the company's headquarters, Renee Bennett, played by Amy Schumer, works for the website of the high-end cosmetics company Lily LeClaire. The company's headquarters is an intimidating workplace full of models and perfect bodies. Renee wishes she could be pretty like them. She uses SoulCycle classes as a motivator, and it's at one of these classes that she falls and hits her head. When she wakes up she looks in the mirror and sees herself as a stunningly beautiful woman with the perfect body she always wished for. She still looks the same to everyone else but now she's brimming with a new-found confidence.
Her attitude changes, she's more adventurous and not afraid to apply for a receptionist role at the headquarters of LeClaire cosmetics. Successful in gaining the role and with her regular girl relatability, she quickly bonds with the CEO Avery LeClaire, played by Michelle Williams with a high-pitched voice, and is asked to help on the company's diffusion range. For a while she's living the dream life and even finds a new relationship, but situations soon begin to spiral out of control. She starts losing friends and realises that being beautiful isn't everything.
I have to admire Amy Schumer, she's not afraid to make fun of herself and she doesn't hold back in this film, particularly in the scene where she enters a bikini contest. We're more used to seeing Michelle Williams playing dramatic roles so it was great to see her exercising her comedy skills playing the perfect doll like CEO, Avery LeClaire.
At the press screening I was at it was full of male critics but it seemed to be the females including myself that responded to it most. I found myself stifling a few laughs in an otherwise silent cinema. I think every woman can identify with Renee. If there's a metaphor to the film it's that everyone has insecurities, beauty doesn't always make you happy and that confidence within is what's most attractive of all.
The film certainly plays on stereotypes and clichés, the story is very predictable, and the humour may not to be to everyone's taste, but I left the cinema with a feel-good factor. I'm sure there'll be plenty of men who will really enjoy this film but if you are a woman you will find those moments you can really relate to. So, if you want a good night out with plenty of laugh out loud moments I Feel Pretty is the one for you.
Directed by: Abby Kohn and Marc Silverstein
Written by: Abby Kohn and Marc Silverstein
Starring: Amy Schumer
Running time: 1hr 50min
Budget: $32,000,000 (est.)
Released: US April 20th, 2018 | UK and Ireland May 4th, 2018
Review by Claire Millane, a Dublin based actor and comedian, and co-hosts of The No Budget Filmcast.
Watch the Trailer 
Tags In