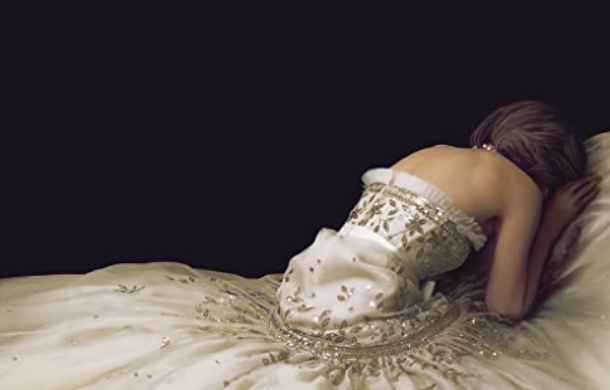 Spencer – Review
Directed by Pablo Larraín (Jackie) and starring Kristen Stewart in the lead role, Spencer is an imagined account of what happened over the three days during Christmas in 1991 when divorce rumours were rife between Diana and Charles.
Set in the Queens residence of Sandringham the film opens with Diana lost and alone in her sports car speeding through the countryside. She comes across a scarecrow wearing her fathers' jacket in a field where she used to play as a child. She removes it and takes it back to Sandringham to get it patched up as a reminder of her father and happier times . It's interesting to note that Diana grew up on the Sandringham estate with her family leasing their house from the Queen.
When Diana finally arrives her anxiety and depression heighten. She doesn't want to be there but feels obliged to for the sake of her children. She's surrounded by Christmas cheer but doesn't feel like keeping up with Christmas tradition in the royal household or abiding by the strict timetable of festivities and dress code.
Diana is haunted by her life and the past. She starts talking to the coat of her father and starts reading a book on Anne Boleyn which has been left in her room. She begins to hallucinate about her and sees the similarities between herself and Charles and Anne and her marriage to Henry VIII. Diana's confidant is her dresser Maggie, played by Sally Hawkins, who she connects with because she speaks to her like a normal human being and not as a princess. She is constantly being watched by the icy servant Major Gregory Alistair, played by Timothy Spall.
When I heard Kristen Stewart had been cast as Princess Diana I initially thought that it was an unusual choice. Most well-known for Twilight, Stewarts career has been at times overshadowed by celebrity and scandal. However, I always saw her as a great actress especially after watching her in Personal Shopper and The Clouds of Sils Maria, where she was the first American actress to win a César Award. And perhaps Stewart felt similarities between the fame and scrutiny she personally experienced and what Diana went through.
She gives a mesmerising performance as Diana. When an actor plays a real life character the margin for error is small and there's a danger that they might do an impression of the person rather than embody their spirit. Stewart certainly embodies Diana's spirit, perfectly capturing Diana's eyes and head tilt. You can see and feel the inner life of Diana along with the perfect accent, realistic wig and costumes.
Stewart also captures the torture, internal struggle and utter frustration Diana went through as part of The Royal Family. This is particularly evident in the scenes depicting her bulimia and the shocking scene where she self-harms. Timothy Spall and Sally Hawkins have quite minor roles but they both leave an impression and have an impact on Diana, good and bad.
By focusing on Diana entirely, the rest of The Royal Family, particularly Charles and the Queen, come across a bit one dimensional with them being portrayed as the evil husband and mother-in-law. I adored the actors who portrayed William and Harry, in particular Jack Nielen playing William. He sparkled off the screen and captured the essence of William perfectly. There was a lovely scene where Diana, William and Harry are playing a game around some candles and Diana gives them Christmas presents that she bought in the local garage. You could feel a real connection and motherly love between Diana and the two boys.
The use of jazz music to accompany much of the film was an unusual choice. It did jar a little, but I think this may have been intentional because it added to the sense of distress that Diana was experiencing. Together with the music and cinematography there's a real claustrophobic feel to the film which served to highlight the formalities and prison like atmosphere that Diana felt she was trapped in.
Although I found the film a bit insensitive at times with portraying other members of The Royal Family as 'the baddies' and the graphic depiction of bulimia and self-harm I think Spencer is well worth watching. I can foresee many award nominations for Kristen Stewart including the possibility of an Oscar win.
Spencer opens in cinemas nationwide on November 5th
Directed by Pablo Larraín
Written by Steve Knight
Starring Kristen Stewart, Sean Harris, Sally Hawkins, Jack Farthing and Timothy Spall
Rating: R
Runtime: 1hr and 15 min.
Review by Claire Millane, a Dublin based actor, writer, and one of the presenters of No Budget.
Tags In