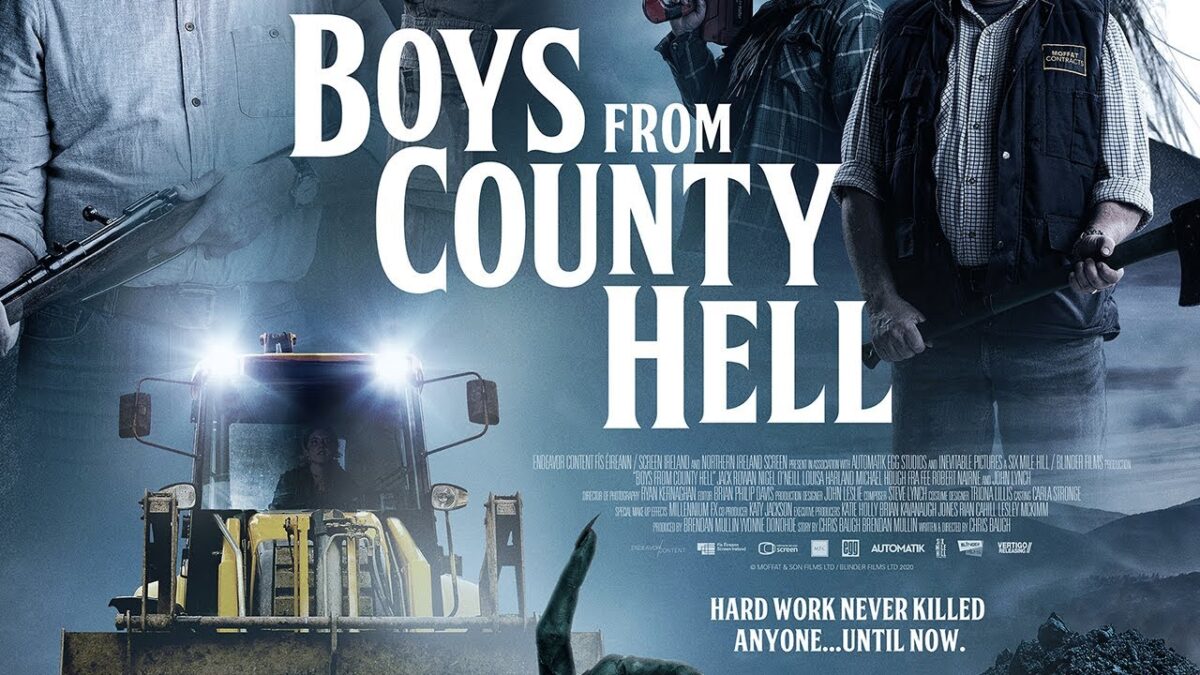 The Boys from County Hell – Review
Set in the fictional Irish village of Six Mile Hill, The Boys from County Hell is a vampire comedy horror directed by Chris Baugh and written by Chris Baugh and Brendan Mullen. It stars Jack Rowen (Peaky Blinders, Knots + Crosses), Louisa Hyland (Derry Girls) and Fra Fee (Les Misérables) alongside some faces which will be familiar to Irish audiences.
William and Eugene are two best friends who enjoy frightening tourists with the legend of Abhartach. They say he was once a resident of the village who drank the blood of his neighbours and was the inspiration behind Bram Stokers Dracula. Abhartach is supposedly buried underneath a tall pile of rocks in a grassy field where a new bypass is now under construction.
The film opens with an older couple sitting in their armchairs watching television and debating whether to go to the local pub, The Stoker when suddenly blood begins to pour from their nose and eyes. This sets up the film very well and then it flashes back to 2 months earlier with William (Fra Fee) and Eugene (Jack Rowen) drinking in The Stoker as they entertain tourists and bring them to see the grave of Abhartach.
The grave is on William's father's land. After a tragedy they discover that Abhartach is real and is once again out for the blood of the people of the village. With Eugene, his father Francie, their friend Claire and some construction workers they try to kill Abhartach before he drains anymore blood.
I saw the directors first feature film Bad Day for the Cut at the Galway Film Fleadh a few years ago and absolutely loved it and I would highly recommend people to check it out online. The humour, the characters, the snappy dialogue and the gore in that film is repeated in The Boys from County Hell which I was delighted to see.
It is a horror film with lots of humour which will make you laugh out loud one minute and then gasp at the bloodiness of it all the next. However, what elevates it above other comedy horrors I've seen are the characters and the relationships. The cast work really well together and there's great banter and chemistry between them. Even the small side characters are given their little moment to shine, like the scenes with David Pearse as the incompetent small-town Guard which added that extra bit of humour.
At 90 minutes it's quite a short runtime but the films narrative works well within its timeframe. But be warned there's a lot of bloody scenes which, if you're like me, may make you feel a little bit queasy. I suppose that's to be expected from a vampire flick and the film certainly doesn't disappoint in that area. If you're looking to watch something that's not too heavy, and a bit of fun with some really good laughs The Boys from County Hell is the film for you.
Released Nationwide in Irish Cinemas on August 6th.
Running Time: 90 minutes
Cert: TBC
Directed by Chris Baugh
Written by Chris Baugh and Brendan Mullen
Cast: Jack Rowan, Louisa Hyland, Fra Fee, Nigel O'Neil
Review by Claire Millane, a Dublin based actor, writer, and one of the presenters of No Budget.
Tags In