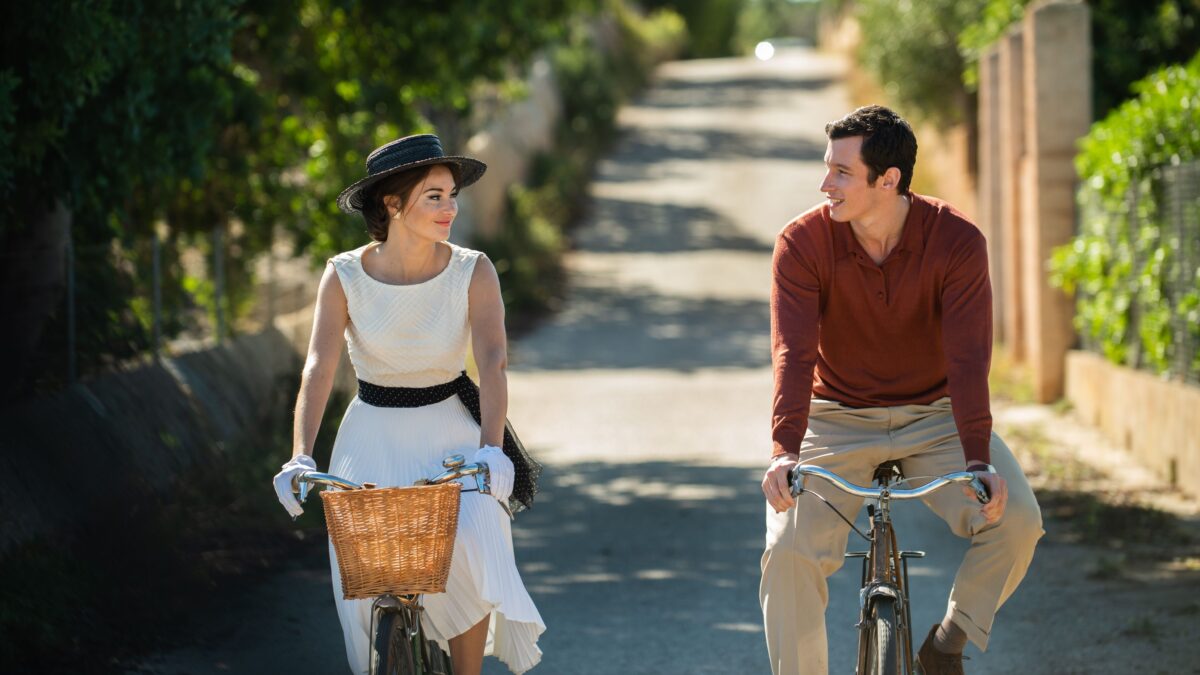 The Last Letter From Your Lover – Review
Directed by Augustine Frizzell (Never Goin' Back) and based on the book of the same name by Jojo Moyes, The Last Letter From Your Lover tells the story of two interconnecting love stories, one in the present and one in the past.
The film opens in the 1960s with Jennifer (Shailene Woodley) suffering from amnesia after being involved in a car accident. She's treated as a trophy wife by her businessman husband Larry (Joe Alwyn). While going through books in her study a letter addressed to her falls out and this prompts her to piece her memories back together.
We see a flashback to a trip to the French Riviera where she encounters Anthony (Callum Turner), a financial journalist who works for the London Chronicle. There's an immediate attraction and a love affair ensues. They begin to write love letters to each other and back in London the affair ramps up while Jennifer's husband is away on business.
The present love story stars Felicity Jones as Ellie, a feature's writer for the London Chronicle, who accidentally finds one of the love letter. She sets out on a mission to discover who wrote the letters. As she begins her search she encounters Rory (Nabhaan Rizwan), the newspapers archivist, who decides to help her on her search. A relationship begins to develop between them.
The film goes back and forth from the past to the present, sometimes creating parallel scenes which is particularly evident when letters are written in the past and in the present messages are communicated via text message.
There's a very surreal nature to the film when it shows the past. Some of the settings and the lighting look like studio sets, particularly when they're in the train station. At times it's almost like you're watching a play. The costumes are full of beautiful dresses, hats and bags making it seem like Shailene Woodley has just stepped out of a fashion magazine from the 1960's. But rather than taking away from the film this stylistic choice adds a dreaminess to it in stark contrast to the drab look of the modern day setting. However, at times I found this contrast to be a little bit jarring, like watching two completely different films.
I was really invested in the relationship between Jennifer and Anthony and how romantic it was. However, I found it harder to connect with the modern day relationship between Ellie and Rory. The actors lacked chemistry and they weren't as fleshed out as Jennifer and Anthony. I also found some of the dialogue to be a little stilted and corny in places, but for this type of romantic drama that type of dialogue is to be expected.
The Last Letter From Your Lover won't be for everyone, but if you're looking for a film with beautiful costumes and a soppy love story which will make you escape the real world for a bit definitely check it out.
In cinemas in Ireland and the UK from August 6th
Running Time: 1 hour 50 minutes
Cert: 12A
Directed by Augustine Frizzell
Written by Nick Payne, Esta Spalding, Jojo Moyes (based on her book)
Cast: Shailene Woodley, Joe Alwyn, Callum Turner, Felicity Jones, Nabhaan Rizwan
Review by Claire Millane, a Dublin based actor, writer, and one of the presenters of No Budget.
Tags In