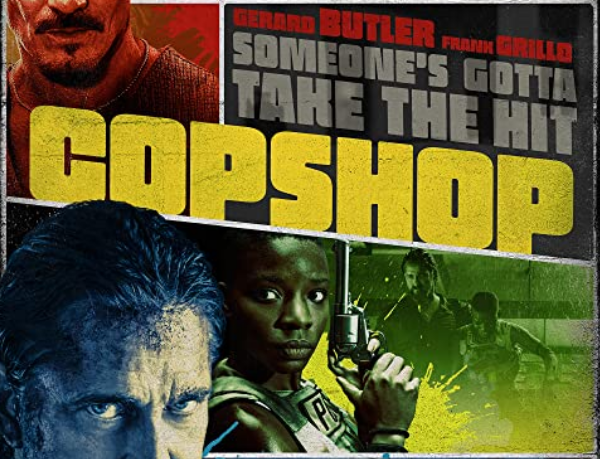 Copshop – Film Review
I didn't fully know what to expect going in to see Copshop. Judging by the trailer I thought it was going to be a cop comedy, but I was wrong. The film is directed by Joe Carnahan and stars Gerard Butler, Frank Grillo and Alexis Louder. Grillo plays Teddy Murretto, a con artist who gets arrested to hide from Bob Viddick (Butler), a hitman. Bob subsequently gets himself arrested and both men become incarcerated in neighbouring cells.
Valerie Young (Alexis Louder) is one of the police officers tasked with looking after them. After she rings up a corrupt detective to find more information about their crimes another psychopath hitman arrives at the police station in the form of Anthony Lamb, played by Toby Huss, and he doesn't care who he hurts or tortures, he's out for blood. For me this is where the film lost the plot. It set up an interesting scenario with Grillo and Butler in opposite cells and then threw another character in from left field. The introduction of Lamb turns the action and the blood and gore up to 100. With all these characters; the con man, the assassins, the police woman, the corrupt cops and the other police officers everything collides in a crazy mish mash of blood and gore leading to a bloody shootout of a climax, which has echoes of a Tarantino film.
I haven't seen Alexis Louder before but she's a terrific actor and does convince as a rookie cop in spite of the stilted script and dialogue. Grillo plays on the little humour he's given and he has a menacing cheekiness to him which was interesting but with the character becoming somewhat lost in the chaos that ensues I couldn't fully get to the bottom of who he was and what exactly he did. I haven't seen Gerard Butler on screen in a very long time. Coming back with Copshop wouldn't be one of his finest performances but you could tell that the actor was enjoying himself playing the role.
I have to say I'm not the target audience for this film. I think it's aimed at the male 18-25 demographic who like bloody action films. And it definitely wouldn't be a film you'd bring a first date to. I found it to be extremely violent and graphic with a lot less humour than the trailer and opening titles would suggest. I was very surprised this only has a 16 rating. With the level of blood, gore and sheer violence it should be strictly 18's. I found myself turning away from the screen in parts. Despite the film not being for me, I know there will definitely be a large audience for it and some people will love it.
If you're looking for a brainless, gore fest with lots of guns Copshop is the film for you. If you're looking for an action thriller with interesting characters and dialogue which will move you and make you think, look else where.
In Irish and UK from September 10th, 2021 | In US September 17th, 2021
Rated 16 IE | R US
Directed by Joe Carnahan
Screenplay by Kurt McLeod & Joe Carnahan
Cast Gerard Butler, Frank Grillo, Alexis Louder, Toby Huss, Ryan O'Nan & Kaiwi Lyman-Mersereau
Running Time: 1 hour 48 minutes
Review by Claire Millane, a Dublin based actor, writer, and one of the presenters of No Budget.
Tags In