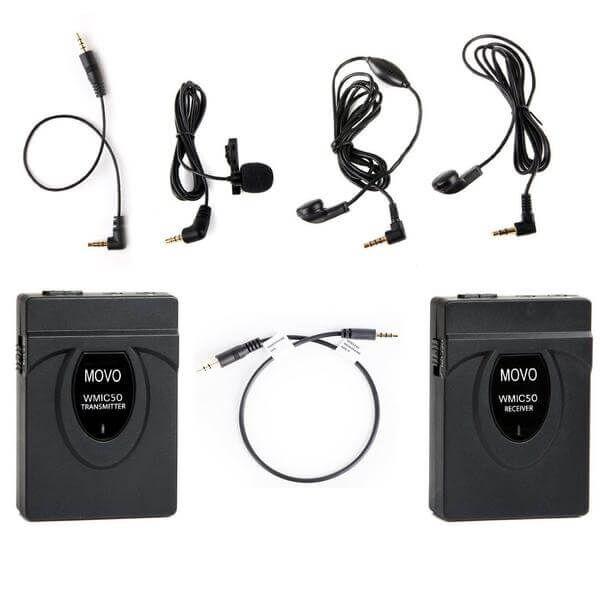 Movo WMIC50 Wireless Microphone Review
Pros: The Movo WMIC50 is an inexpensive option for someone on a budget in need of a wireless microphone
Cons: No ability to change channels or transmission frequency, and no indicator on transmitter or receiver for volume levels
The Bottom Line: You get what you pay for and in this case an inexpensive wireless mic system. But, if you can afford a little extra probably better to go with another option.
When it comes to improving sound for video a great way to do this is with a wireless lapel microphone. This allows for a microphone to sit next to the speaker's mouth, while wirelessly transmitting to a recorder or the camera. With the Movo users get an inexpensive system that works better than you might think for the build quality.
Layout: The transmitter and receiver have an on-off switch, and a volume and that is about it. The volume doesn't have a readout so that it is impossible to know on the device how low or high the volume is. This requires that whatever the receiver is plugged into has the ability to show levels or that someone is on the receiving end with headphones to listen to the levels.
Usability: You can't get much easier to use than this. With no options to change anything, plug in and turn on.
Sound: The sound quality is much better than expected for such an inexpensive system. There could be an issue with radio frequencies picking up on each other if using more than one.
Build: This is all plastic and feels like it in the hands. It is a light system and is easy to carry or attach to a belt or a camera, but feels as if anything rough were to happen parts would start falling off or breaking.
If you would like to see our full hands on test of the Movo WMIC50 check out the video below.