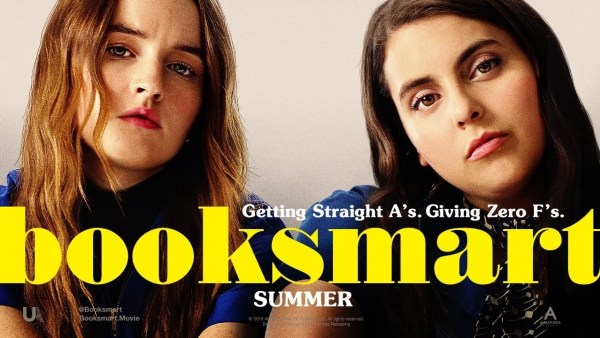 Booksmart Review
Normally at the end of these press screenings, I emerge from the cinema, blinking at multiple scraps of paper, upon which I have scrawled various notes for myself, illegibly, in the dark. A beautiful scene I don't want to forget in my review, a poignant moment well handled, a magical moment of fun. On emerging from Booksmart into the basement of the Lighthouse cinema, I found my pockets conspicuously empty.
On paper, Booksmart has everything I normally would love. It's a coming of age  film, and I think we all have a secret, or overt love of these stories, as we can all identify with going through that process ourselves. Also, its offering a fresh approach to the genre; two overly-studious girls, one of whom is coming out as a lesbian. And ironically, therein may lie the problem. The film seems to try too hard to be funny, to be different, to be cool, to be outrageous and rebellious; perhaps without achieving any of the above.
I went to Booksmart with high hopes: the hype around the film after SXSW led me to believe that it might actually be my favourite film of the year so far. Instead, I am left perplexed, wondering how there could be such unanimous acclaim for a film that failed to deliver in almost every category.
I do love coming of age films, but this felt like an ageing film, as the weariness of the exaggerated, over the top effort at being different and being funny became tiresome quite early. For those who enjoy the coming of age  genre, you would be well advised to keep it Irish and wait for the wonderful Metal Heart which arrives in cinemas next month, starring Jordanne Jones and Leah McNamara.
One of the crucial elements of the genre is that we should find ourselves cheering for the characters, and identify in some way with them. The sole character which offers any potential here is Amy, who is struggling with her sexuality. The heartbreak she feels midway through the film offers one of the few rare moments of real feeling and poignancy here. Kaitlyn Dever is the sole actor who delivers on any degree of humanity and subtlety throughout the film; ironically this makes her feel out of place in this pantomime, at moments appearing like a deer in headlights after emerging from the back end of the pantomime horse that this film lapses into at times. Her friend Molly is a caricature, like many of the others; the hapless principal who is for some reason, moonlighting as a taxi driver, their classmate GiGi, who appears at every party, even more bombastic and outrageously camp each time. She is out-camped only by her boyfriend, Jared, a fairly inexplicable character who annoys and wears down Amy and Molly whenever he appears (and the audience for that matter). Their other classmates stage outrageously camp theatre and inexplicably, appear to be tearing the school apart and partying outrageously in the corridors before first class each morning. They are mad! Most of the actors seem to be delivering their lines as if strutting the stage in a school production, intent on big, loud delivery. Apart from Kaitlyn Dever, who is the sole refuge here for subtlety and reflection. While we hope she can find the girl of her dreams, we find ourselves mostly hoping she can rescue this film from lapsing into a bizarre street carnival. In the latter quest, she doesn't; in the former, you can find out when you don't go to see this film. Don't go.
Director: Olivia Wilde
Written by:Susanna Fogel and Emily Halpern
Starring: Kaitlyn Dever, Billie Lourd, and Skyler Gisondo
Rated: R
Running Time: 1 hours and 42 minutes
Release Date: May, 2019
Review by Fergus Keane one of the presenters of No-Budget.
Booksmart Trailer
Tags In