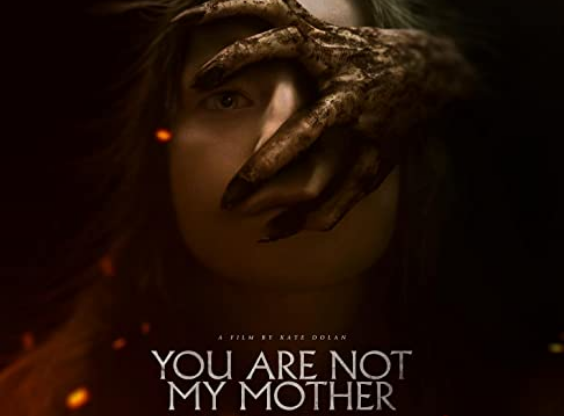 You Are Not My Mother – Review
You Are Not My Mother is written and directed by Kate Dolan and stars Hazel Doupe (Float Like a Butterfly, Calm with Horses), Carolyn Bracken (Dublin Murders), Paul Reid (Vikings, Ritual), Ingrid Craigie (Blood, Seven Days in Entebbe) and Jordanne Jones (Metal Heart, I Used To Live Here).
Char's mother Angela is mentally ill and is mostly confined to her bed. The week before Halloween her car is found abandoned in the middle of a field. She returns suddenly the next day but it becomes clear to Char and her grandmother Rita that something isn't right. Angela's behaviour becomes more erratic, as if she's someone else and there's something evil possessing her. With Halloween approaching Char tries to unearth what's going on with her mother and her family and tries to save her before it's too late.
I find some horror films lack suspense and go straight to the fright and gore but I didn't find this with You Are Not My Mother. I thought it built up the suspense very well so when there was an element of fright or a disturbing moment it earned it.
Taking away the horror element, the film also deals with bullying and mental illness and all the fears and anxieties that goes with it. Seeing the isolation and terror Char faces on a daily basis trying to deal with school bullies as well as a mentally ill mother was quite moving in parts. I could feel the weight of everything she was going through. I found it to be a very realistic portrayal of dealing with mental illness within a family.
I thought the acting was terrific, particularly by Hazel Doupe and Carolyn Bracken who play Char and Angela. I could feel a real connection between them as mother and daughter. There was one particular scene that stood out and which shocked and disturbed me, but in a really effective way. Angela dances to Joe Dolan's song 'Oh Me Oh My'. She starts off dancing normally and then as the song goes on, the dancing becomes more erratic and she's pounding the floor in an extremely manic way until it looks like she's possessed by an evil force. She's doing this while Char looks on and gets more and more distressed. It's really impressive acting and dancing skills from Carolyn Bracken.
Also the special effects makeup was very well done. Sometimes in horror films the makeup can look cheap and it takes you out of the film. But here it's very effective, and together with the lighting and cinematography a really eerie atmosphere is created.
If you're into watching suspenseful horror films which aren't too heavy on the violence or the gore and which highlight some real life issues You Are Not My Mother is the one for you.
Written and Directed by: Kate Dolan
Starring: Jade Jordan, Hazel Doupe, and Paul Reid
Running Time: 1hr and 33min
Released: March 25th, 2022 (US) | March 4th, 2022 (Ireland)
Review by Claire Millane, a Dublin based actor and comedian, and co-hosts of The No Budget Filmcast.
You Are Not My Mother Trailer