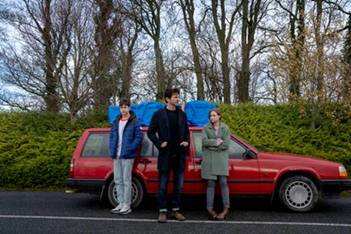 The Last Right Review – A Charming Irish Road Movie
Written and directed by Aoife Crehan and starring Michiel Huisman (Game of Thrones, The Haunting of Hill House),  Niamh Algar (The Drummer and the Keeper, The Virtues) and Samuel Bottomley (Jericho, Tyranossaur) with supporting cast from Colm Meaney and Brian Cox The Last Right deals with Daniel who is returning home to Cork to attend his mother's funeral and to look after his autistic brother Louis. On the plane on the way home to Ireland Daniel strikes up a conversation with a gentleman who is returning home to attend his brother's funeral. They discover they have the same surname. He has no relations still alive so upon landing he puts Daniel down as his next of kin. He dies suddenly and Daniel is left to deal with his coffin and transport it up North so he can be buried with his brother.
Daniel is trying to convince Louis to return to New York with him. Louis agrees to go with Daniel if they return the man's body in time for his brother's funeral. Meanwhile Mary, a local mortician's assistant, posts an incriminating letter to her ex-boyfriend which she immediately regrets so hitches a lift with Daniel and Louis to get the letter back before her ex-boyfriend opens it. When the Guards realize the mix up with the coffin a chase ensues.
With the opening sequence of an American returning to Ireland to his family I was worried the film was going to cross into the Leap Year, P.S. I Love You territory but luckily The Last Right stays just the right side of the line. It takes a little while for the story to settle into itself and some of the jokes fall flat but I found myself really enjoying the film as it left the small town in Cork and got going on the road up North with the coffin.
Colm Meaney and Brian Cox, most recently seen in the brilliant series Succession, are underused but the film's success is down to the lovely chemistry between the three leads. It's clear how protective and caring Daniel is of Louis and how he wants the best for him. At times I found myself getting quite emotional, particularly with some of the scenes between Louis and Mary and Louis and Daniel. It's not a laugh out loud comedy but more of a drama with comedic elements. If you're looking for an Irish road movie which will leave you with a smile on your face this is the film for you.
Director: Aoife Crehan
Written by: Aoife Crehan
Starring: Starring Michiel Huisman, Niamh Algar, Samuel Bottomley, Colm Meaney, and Brian Cox
Running Time: 107 minutes
Released: Friday December 6th,  2019
Review by Claire Millane, a Dublin based actor writer and one of the presenters of No-Budget.
Watch the Trailer Here
Tags In