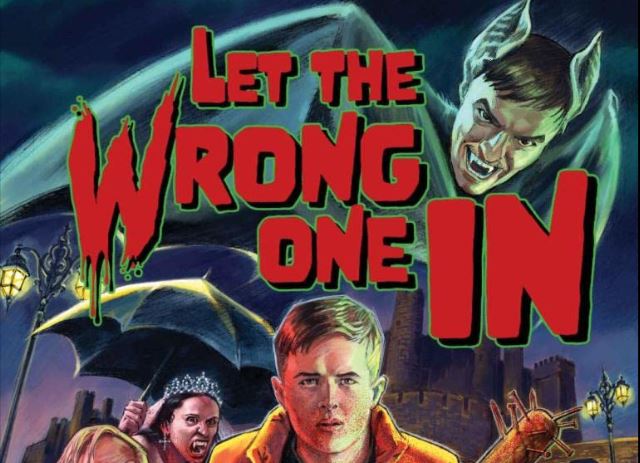 Let the Wrong One In Review
In the past few years Ireland has seen a long overdue transition where filmmakers look internally for stories and
move away from trying to impress the international marketplace. Movies like Paddy Breathnach's Rosie,
Phyllida Lloyd's Herself, Frank Berry's Michael Inside and Rachel Carey's Deadly Cuts have all shown that
there's want and need for indigenous stories rather than waning to the wants of a saturated marketplace
controlled by streaming and big corporations. Conor McMahon's Let The Wrong One In, a vampire comedy, is a
prime example of this and what Ireland can achieve if left to spearhead its own stories.
The film follows the Karl Rice's Matt as he must deal with his drug addict turned vampire Deco (played
wonderfully by Eoin Duffy), a taxi driver turned vampire hunter (Anthony Head from TV's Buffy The Vampire
Slayer), a vampire hen party hell bent on creating an army of the undead (headed well by Mary Murray) and his
Ma (the underutilized Hilda Fay). If that seems like a lot… well it is. One of the film's biggest issues is that it
crams so much into its 96-minute runtime that it's hard to engage with the plot and characters. This imbalance
left me with a sense of a missed opportunity where the film's more sobering moments suffer from
underdevelopment. Another issue is the film's low budget feel, which ironically is one of its qualities too. Some
of the production and editing scream "TV Sitcom Pilot" not to mention much of the film takes place in one
location.


McMahon's background in TV here is clear but so is his film background. As much as you can critique lack of
production value in places it's also part of its charm. The cinematography and lighting feels like an 80's video
nasty in places. This aspect is hyped up with a film's charming use of practical effects and back projection
reminiscent of Sam Raimi's The Evil Dead or Peter Jackson's Dead Alive. Its dead funny as well with gags and
jokes that are totally unique to Dublin and Ireland, where else could you see a vampire get stacked with a
Hurley? Rice's performance may be a tad amateur in places and the film does lean on overused (and unfunny)
stereotypes of the working-class in places but overall, this is a film for the Dubs.
Whilst Let The Wrong One In has its fair share of faults and conflicting elements (The name alone is a dated
reference to an actual vampire film from 14 years ago that most won't get) I think it's worth seeing. Especially
as Dub who hungers for more working-class representation in Irish cinema, this film gets that.
Written and Directed by: Conor McMahon
Starring: Karl Rice, Eoin Duffy, and Anthony Head
Run Time: 1hr and 40min
Released: Aprin 1st, 2022 (US) | January 20th, 2023 (Ireland)
Rating: 3 out of 5
Review by Marcus Rochford.
Let the Wrong One In Trailer